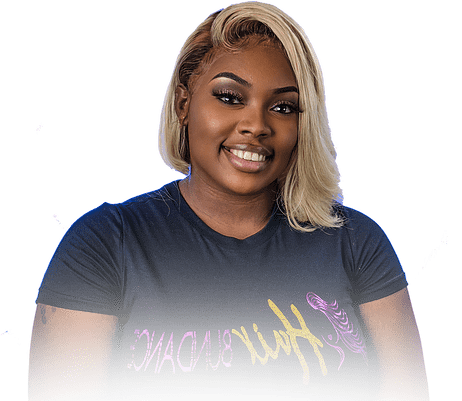 FREQUENTLY ASKED QUESTIONS
• How much hair do I need?
We suggest Length 14-16″Inches – You Need 2 bundles Or More, Lengths 18-24″Lengths You Need 3 bundles Or More, Lengths 26-30″ You Need 4 bundles or More, and 30″-Up"-5 bundles or More.
•How much does each bundle weight?
Each bundle is weighted between 3.2-3.5oz.
•Will each weft be the same length?
Virgin Hair is first weighted 3.2-3.5oz and hand sewed on a weft, so the wefts will be different between each bundle.
•What type of hair care products should I use?
Treat this hair like your own hair. Use good quality shampoo and conditioning products. Conditioning your hair is very important to keep it soft and manageable. We recommend using a deep conditioner on your virgin hair once per week, but avoid using oil or heavy styling products.
•Does this hair shed?
Any hair that has been manufacture to be stitched on a weft is entitled to experience minimum shedding which is absolutely normal. Minimum shedding meaning (the hair will be never have a noticeable or drastic decrease in its density or volume. However, proper maintenance is extremely important and advised.
Due to the nature of our product, and federal health regulations, all of our hair extensions are final sale. We do not offer refunds on any hair extension purchases. If you believe that you have received defective merchandise, please contact us immediately. We will NOT allow an exchange if the item has ANY signs of being worn. Hair cannot be brushed, washed, fingered through, combed, cut, or taken out of the bundle. Our hair undergoes a strict quality control process to ensure that our customers receive only the best virgin hair.
Thank You for ordering with Hairbundance
WE ASK YOU KEEP YOUR BILLING ADDRESS AND SHIPPING ADDRESS THE SAME. MAKE SURE YOU'RE ENTERING IN THE CORRECT BILLING ADDRESS THAT'S ASSOCIATED WITH YOUR BANK CARD. IF YOU DON'T ENTER THE CORRECT BILLING ADDRESS YOUR CARD WON'T PROCESS THE PAYMENT. IF YOU SEE A PENDING TRANSACTION ON YOUR CARD AFTER BEING DECLINED IT WILL FALL OFF AND IT'S ONLY SHOWING YOU ATTEMPTED TO MAKE THE TRANSACTION.
How long is processing, shipping, and handling?
Processing takes 2-3 Business days for your order to be shipped out. Processing occurs Monday-Friday. (If you ordered on Friday your order will be processed on the next business day which is Monday.) Express Shipping Orders are 2 to 3 Business Days.
Domestic Express Shipping is 2-3 Business days depending on your location.
Domestic Regular Flat Rate Shipping is 5-7 Business days depending on your location.
International Shipping is 7-10 Business days depending on your location.
All Packages Delivery is with the USPS. Business days are Monday-Friday
If your have any questions or concerns please feel free to Contact Us At 229-457-0790
During Business Hrs M-F 9am-6